Update 9:24 MST-- Disney Brave is no longer available as one of the choices. It sold out Lightening FAST!
DEAL IDEA: (Wal-Mart ONLINE)
#1:
Go *
HERE
* to the website..
#2:
CLICK on the picture that says (See 2 More $10 Blu-Ray Combo, Customer Choices)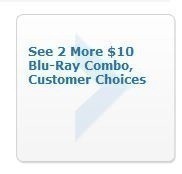 #3:
ADD it to your cart.. and get FREE SHIPPING too!!
#4:
We all need cereal anyways? Or if you have ANY Kellogg's cereal at your house.. cut off the UPC barcode and do this $10.00 REBATE
Disney Pixar Brave on Blu-ray Combo Pack